Online Dating Girl Power – Ladies, Make the First Move on Zoosk!
March 5, 2010 at 3:12 pm Zoosk 4 comments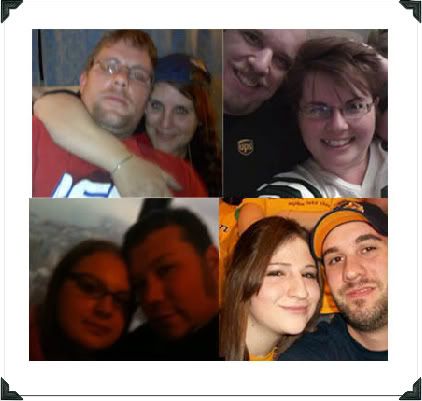 Besides having all met their significant others on Zoosk, the couples you see above all have one other thing in common. In each of these success stories, the ladies made the first move on their man! Guest blogger Carrie Seim tells the ladies why it's high time for them to go on the offense when it comes to the game of love.
The old "rules" said ladies had to wait around for their gentlemen callers. The new rules say – how boring is that?
Steal a page from Zoosker Annie's playbook. The Jersey girl took a shining to Zoosker Paul's profile. Instead of twiddling her thumbs, waiting for an engraved invitation to love, Annie "favorited" his profile. Paul winked back. And as of January 2, the two are officially an item!
Instead of playing hard to get and letting guys deal the cards, Annie bravely reshuffled the deck. Her Zoosk success story proves that women should stop waiting and start dating!
After all, making the first move looks good on you!
Go ahead, send him a wink
If a lucky guy catches your eye on Zoosk, don't be afraid to favorite him, send him a wink or toss him a flirt. These low-risk moves can bring big success to your love life. Nothing winked, nothing gained, right?
You'd be surprised at how much men crave compliments, and how seldom they receive them. There's nothing more flattering than a flirt from a sultry stranger. (That's you.) So send him a friendly wink. Or give him kudos for the spectacles he's sporting in his profile pic. Or answer one of his Date Card icebreakers with a compliment on his curiosity.
You don't have to propose marriage – just give a hint that you're into him. Then watch how fast he comes running! Nervous that men only want a chase? Not so fast…
Men dig ladies who make a move
"The one thing that always makes me feel like a rock star is when a girl approaches me first," says 30-year-old Dan from Los Angeles. "It's that simple."
Men across the country have told me how attracted they are to women who go for what they want – especially when what they want is them.
Bring it
If there's one thing guys aren't short on, it's overconfident delusion. This can be annoying at times ("I'm the best Rock Band player to walk the earth,") but it's a valuable commodity in the flirting field.
So try their tricks. Think about how fascinating, funny and fox you are before you approach a lucky guy. And remember how thrilled he's going to be to hear from you.
Because really, what are you risking? If for some insane reason the dude doesn't wink back, well, there are 50 million singles on Zoosk, so there are million more guys to choose from!
No more waiting around for Prince Charming, ladies. Time to find your own glass slipper!
Guest Blogger Bio
Carrie Seim is an alum of the Groundlings Comedy Theatre, where she performs, teaches and habitually abuses her position of authority. Her comedic essay "Outsourcing Love" was recently optioned  for a feature film. Carrie regularly contributes humorous essays and videos to the New York Post and fierce dating exposés to the Tyra Banks Show and BettyConfidential.com. She had a recurring role on E!'s Seven Deadly Hollywood Sins. Carrie's last name means "farm by the sea" in Norway. In America it means "kitten with a whip."
Entry filed under: Uncategorized. Tags: dating, dating and relationships, love, online dating, singles, zoosk.