Posts tagged 'engagement'
What a romantic success story we have for you today. Congrats to Zooskers Rodney and Selina! They met on Zoosk and are getting married – reuniting after 26 years! Selina wrote us to share her story:
Good morning to you. Yes it is true. My future husband and I are getting married in August of 2013. Rodney and I went to school together 26 years ago. We met again via Zoosk! Rather he found me. After talking a few times, we both realized that he was the same young man that was chasing after me in High School. He wanted to date back then but I was in a relationship with my now ex-husband.

Rodney was 2 years ahead of me in school and when he left school he started his life and I started mine. Now, 26 years later we are starting our life together. He keeps saying what are the odds of finding the woman that you wanted so bad from high school after so many years. I laugh at the question all the time, but I do wonder, what are the odds of finding one another after so many years and being in a real loving relationship with one another.

I would like to thank Zoosk for bringing me the best man that I could ever hope to spend the rest of my life with. We make each other so ridiculously happy that when we smile it makes our faces hurt. We are working on making this wedding almost as memorable as the proposal. Speaking of which, He wanted to propose in a way that neither of us would ever forget. While shopping at Lowe's for some items to work around the house with, he got on his knees in the isle with the weed trimmers and surprised me with a little box and asked me to marry him. I was so stunned that I (Selina) was speechless, he laughed and told me to breathe. I closed my mouth, breathed and said said yes. I can't wait to say I DO to the man that makes me spin in circles. Thank you again Zoosk.

-Selina & Rodney from Virgina
We wish these two all the best. If you've got a Zoosk success story, send it to us at success [at] zoosk [dot] com - and don't forget to set up your free Zoosk Couple Profile. Happy Zoosking!
PS: Here's a photo of Selina's wedding ring!


By Carissa Trujillo
Have you ever heard of engagement chicken? It's a dish that claims to have the power to help couples take that "next step" in their romantic journey.
A record 70 couples claim to have gotten engaged shortly after eating it! Does it work? There's only one way to find out.
Here's the recipe:
1 whole chicken (approx. 4 pounds)
1/2 cup fresh lemon juice, plus 3 whole lemons ­including 1 sliced for garnish
1 tablespoon kosher or coarse sea salt
1/2 teaspoon freshly ground pepper
Fresh herbs for garnish (4 rosemary sprigs, 4 sage sprigs, 8 thyme sprigs, and 1 bunch flat-leaf parsley)
Position an oven rack in the upper third of the oven and preheat the oven to 400°F. Remove the giblets from the chicken, wash the chicken inside and out with cold water, then let the chicken drain, cavity down, in a colander for 2 minutes.
Pat the chicken dry with paper towels. Place the chicken breast-side down in a medium roasting pan fitted with a rack and pour the lemon juice all over the chicken, both inside and out. Season the chicken all over with salt and pepper inside and out.
Prick 2 whole lemons three times in three different places on each with a fork and place them deep inside the cavity. Chicken cavity size may vary, so if one lemon is partly sticking out, that's fine. (Tip: If the lemons are stiff, roll them on the counter top with your palm before pricking to get the juices flowing.)
Put the chicken in the oven, lower the oven temperature to 350 degrees F, and roast, uncovered for 15 minutes.
Remove the roasting pan from the oven. Using tongs or two wooden spoons, turn the chicken breast-side up. Insert a meat thermometer in the thigh, and return the chicken to the oven and roast for about 1 hour to 1 hour and 15 minutes or until the meat thermometer reads 180 degrees F and the juices run clear when the thigh is pricked with a fork. Continue roasting if necessary. Keep in mind that cooking times in different ovens vary; roasting a chicken at 350°F takes approximately 18-20 minutes per pound, plus an additional 15 minutes for a stuffed chicken that is 4 pounds.
Let the chicken rest for 10 minutes before carving. And here's the secret: Pour the juices from the roasting pan on top of the sliced chicken. Garnish with fresh herbs and lemon slices.
I hope you enjoy the tasty recipe – and I wish you the best on your journey in romance, both in life and in the kitchen.
About the author: Carissa Trujillo is a cooking adventurist and a Zoosk Customer Support Ninja.
Photo via Flickr. Creative Commons: Attribution ShareAlike.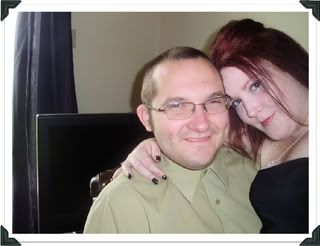 Candace from Canada was hesitant to rejoin Zoosk after her first Zoosk relationship ended, but she renewed her Zoosk account despite those hesitations. Now she's glad that she gave online dating a second chance, because she met her current fiance a week after she rejoined our service! Yay! (more…)