Posts tagged 'matches'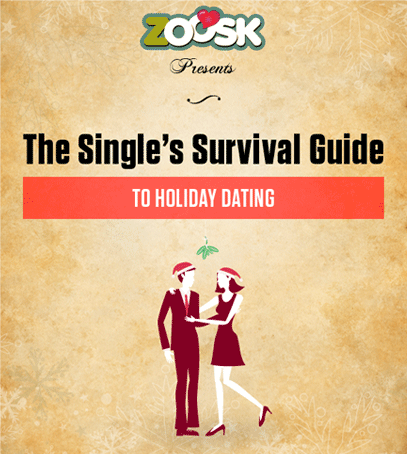 By Juliet O
Yippee! Bring out the bells, the whistles, and the fancy trays of mouth-watering, calorie-laden sweets: the end-of-year holiday season has finally arrived! As this year (and decade) draws to a close, Zoosk wishes you the happiest holiday festivities and brightest spirits and cheer that this season has to offer.
Holidays bring with them a host of holly jolly things, from parties to paid vacation to presents, but our absolute favorite aspect of the holiday season will always be the unique excitement of holiday dating. The holiday merriment rubs off on even the most incorrigible Scrooge. Who doesn't love an eggnog, peppermint schnapps, and mistletoe-fueled adrenaline rush?
But we know that desite the amazing rewards, holiday dating is not without its challenges. We want to make the entire process of dating during this time of year as easy on you as possible. We want you to stop stressing out and focus instead on enjoying yourself. To help our Zooskers navigate and cultivate their love lives during this special time of year, we've created the Singles Guide to Surviving the Holidays, a downloadable PDF that you can save on your desktop and read at your own convenience, that answers some of your most pressing questions about the rules of holiday dating. (more…)
By Juliet O
A widely accepted law of dating states that the longer you date, the more baggage you accumulate. Thinking back to your earliest relationships, don't certain words come to mind, like naive, innocent, simple? Things were so uncomplicated way back when all you had to worry about regarding love was a curfew and what your parents were going to say. A first love is such a beautiful thing, because the first loves seem so innocent, unbridled, and pastoral. But the moment you get hurt for the first time, everything changes. After our first loves wane away, we develop shells and shields and build walls — we close ourselves up out of defense, and we don't let anyone access those deep, vulnerable parts of ourselves quite that way ever ever again. And like a hermit crab that carries everything on its back, we start dragging our baggage along everywhere.
But baggage can also destroy relationships, especially when one tries to hoist their baggage on someone else. Say that your baggage is the memory of your ex. And you take that memory with you everywhere, including on dates with new people, and your ex becomes the ubiquitous elephant in the room? That can definitely damage your chances at a new relationship. Or what if your particular baggage is the jealousy that you developed as the result of getting hurt in the past? Hoisting that baggage on a new, unsuspecting partner cannot possibly be conducive to a future relationship. And when you act jealously toward people, and they leave you because they can't take it anymore, you only become more jaded and more jealous. The danger of baggage is that it has a way of multiplying itself.
So how do we deal with this baggage issue? (more…)
Lately, I have seen a ton of folks announcing hitting milestones in their communities and celebrating them all. So I thought about major milestones that Zoosk has hit recently. It turns out we had a few of our own this summer:
100,000,000 Matches
On August 21st, we crossed 100 million conversation mark. In other words, since Zoosk's birthday, we have enabled 100 million pairs to match and have conversations with each other through Zoosk. Some of these matches have turned into friendly flirts, some into dates, and some into relationships that will last for a long time. We have already received invitations to some of the weddings that have happened through Zoosk and know of Zoosk babies that are due soon
. We always love to hear Zoosk stories, so please share yours.
8,000,000 Zooskers
About three weeks later, the number of users on Zoosk crossed 8 million which makes for a very big, happy family. These Zooskers are coming from almost all countries on the planet speaking many languages which makes for a very fun family reunion party.
We here at Zoosk have had a ton fun helping to grow this community to where it is today and we are very thankful to every single Zoosker for making the site a better place by their presence. But we are just getting started. Zoosk isn't even one year old and these milestones, as impressive as they are, will only be the stepping stones for bigger things for the Zoosk community.
The interesting thing is that we didn't even notice that we have crossed these milestones. Our team is super focused on making the experience better for our users everyday and these milestones are simply byproducts of making our users happier with Zoosk.
Happy Zoosking!